Camp Activities

Variety + Safety
Kenbrook offers many activiies on our campus. The purpose and goal of these activities are to introduce our campers to new things, encourage them to overcome challenges or hesitations they may have, and continue to discover who they are and what makes them unique. Our activities also foster a sense of team and community between our campers, and offers opportunities to create memories that last a lifetime.
Safety is a priority. We ensure each of our staff members are trained to safely lead and facilitate each of the activities. Our equipment is checked and firm guidelines are clearly given to the campers to make sure everyone enjoy the activity safely and fairly. Several of our activities are only available to older campers to ensure that all participants have the maturity and physically capability to be successful and (most important of all!) safe.
Available for Older Campers:
Climbing Wall - Our climbing wall, consisting of two sides is fun for campers with any level of experience.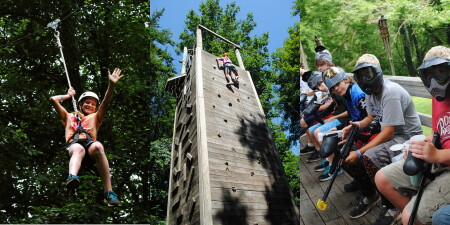 Available to all ages
Pool with Water Slide- Our Pool is carefully guarded by trained lifeguards, as well as counselors and Kenbrook staff observing on the pool edges and in the water with campers. Campers must pass a simple swim test of swimming one length of the pool in order to swim in the deep end with the water slide.
Basketball Court
GaGa Ball
Archery
Slingshots
Kayaking
Canoeing
Fishing
Sand Volleyball
Outdoor Skills
Gym
Game Room
Challenge Course with Team Building Initiatives
Field Games
Nature Trails through woods and along creeks
Campfires
9 Square in the Air
Crafts
Airsoft
Archery Tag