Frequently Asked Questions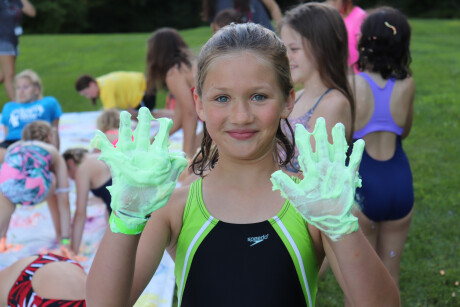 What if we cannot afford the price of camp?
Kenbrook never wants money to get in the way of a child coming to camp. For more information about discounts and financial aid, e-mail .
What if my child has a food allergy?
Food allergies are a common occurrence at camp and our kitchen will provide menu options specifically for your child and their dietary needs. Our food service department is committed to providing a quality experience for every camper, so these menu options will be tailored to their age group, just as every other camper's food will be. Kenbrook does not provide a specialized menu for campers based on preference alone.
Does Kenbrook accommodate individualized needs?
Absolutely. Our goal is to provide quality programming for every child. We will do whatever we can to accommodate every child that comes to Kenbrook. There may be select cases that our facilities and programming cannot facilitate, but if you or your child is interested in Kenbrook, we will do everything we can to put them in a position to thrive during their time at Kenbrook Bible Camp.
Is safety a priority at camp?
Definitely. If parents do not feel like their children are safe, they will not send them, and if campers do not feel safe they will not have a positive camp experience. Safety is a top priority at Kenbrook. All staff are screened using three background checks, vetted through our interview process, and given extensive training before the summer begins. Kenbrook has a zero-tolerance policy on bullying and we do everything in our power to prevent campers from entering situations where bullying could occur. Campers are always in supervised areas while they are at camp. No matter what activity or program, Kenbrook strives to maintain an 8:1 camper to staff ratio. Even when campers are not under direct supervision, staff provides supervision for an area and campers will move in groups of three so that two campers are never by themselves.
Why Three Price Options?
In short, we offer tiered pricing because we want every kid to come to camp regardless of their family's income level. We encourage you to choose the price option that best corresponds with your ability to pay. The higher the level that you choose, the more your payment will reflect the actual cost of providing a summer camp experience for your camper. Whatever level you choose, you can be sure that your choice is confidential and will not impact your camper's experience in any way!
Tier A – Best accounts for the basic expenses of summer camp.
Tier B – Best accounts for summer expenses and utility usage for summer camp.
Tier C – Best accounts for the true cost of summer camp including staffing and site maintenance.
*Tier A & B are subsidized through donor support. No matter what tier you choose, the program and accommodations are the same for your camper!
Registration Fees
(before discounts and financial aid)
| | | | |
| --- | --- | --- | --- |
| Residential Camp | Tier A | Tier B | Tier C |
| Full Week | $395 | $445 | $495 |
| Day Camp | Tier A | Tier B | Tier C |
| Full Week | $185 | $235 | $285 |
| Kenbrook and Beyond | Tier A | Tier B | Tier C |
| Per Multi-Week Session | $400 | $450 | $500 |
| KREW and CIT | Tier A | Tier B | Tier C |
| Per Multi-Week Session | $100 | $175 | $250 |