Residential Camp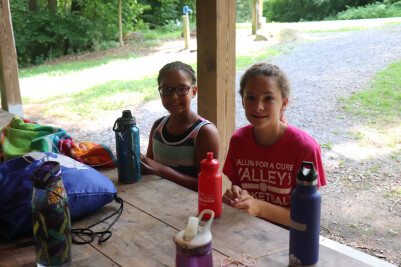 Kenbrook has been providing summer camp experiences for children and youth for over 70 years! While some things have changed over time, one thing has remained constant: our deep desire for young people to know God through a relationship with Jesus Christ. We will provide your camper with the opportunity to experience God in new ways through programs that are geared to their age group. This means that sessions, games, Truth Talks, how-tos, and even meal times will be tailored to your camper's age group so that they can have the best experience possible.
All of Kenbrook's overnight camps start on Sunday. Check-in for each session is from 3-5 pm at Fairland Lodge. The closing program is at 6:00 pm on the last day of the session and parents are invited to attend. Campers will be dismissed at the conclusion of the closing program at 6:30 pm.
Camp sessions are based on the age of the camper at the start of the session. Each session is programmed with the age of the camper in mind. Some campers will have multiple sessions to pick from. However, the program will vary slightly from week to week due to the age range of the campers attending.
Trailblazers (Ages 8-12) June 12-17, 2022
It's time to shake the dust off and come to Kenbrook for a week that will change your life! Maybe it's fun during a game of basketball, cooling off in the pool, or playing gaga ball. Perhaps it will be learning a new skill, perfecting your archery, or canoeing skills. No matter what activity you choose, you will have an amazing time!
Pilgrims (Ages 10-14) June 19-24, 2022
This week combines middle school and older elementary school students so that siblings can be a part of the same camp experience. We value family and want to provide your campers with a safe and challenging atmosphere to grow in their relationships with God all while doing fun camp activities like camping out, archery, sling shots, hiking, pool time, fishing, canoeing and so much more!
Hitchhikers (Ages 9-13) June 26-July 1, 2022
Hitchhikers Camp is a week designed to challenge campers with fun, age appropriate activities. Learn to build a fire, shoot archery, sing crazy songs, splash in the pool, play kickball and make friends from all over! This can be a great introduction to summer camp or can push and grow our returning campers.
Explorers (Ages 7-11) July 3-8, 2022
Get ready for an exciting week of camp that will hold new games, truth talks, and more activities aimed at helping campers explore who they are and the world around them. Campers will get to experience a wide variety of daily activities including fishing, archery, canoeing, and field games. You'll make new friends during pool time and you'll have a blast throughout the day.
The Edge (Ages 10-14) July 10-15, 2022
A challenging message, an engaging worship session and a counselor who cares, will all help these campers establish an authentic faith in Jesus that will sustain them when the pressures of the world push them to the edge. Plus, all the fun activities as usual!